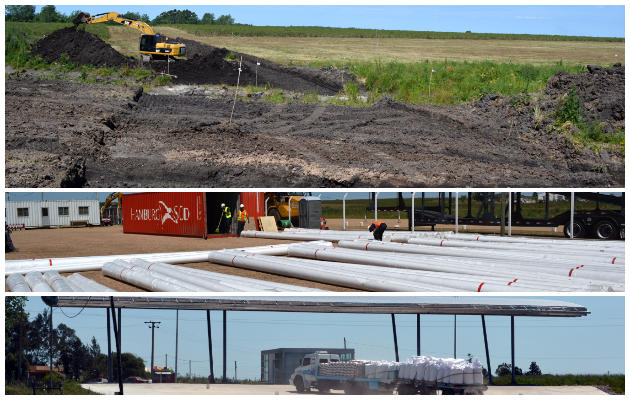 It began to build new streets in Polo Logístico Ruta 5
Without affecting the current activity, the construction of new streets began in our Industrial Park and Bimodal Logistics. This will result in the installation of new users.
Polo Logístico Ruta 5 (PLR5) is aimed at a wide range of clients: from enterprises with local reach to corporations seeking to install a regional production and / or distribution center. It takes place in a plot of 80 hectares, just 20 minutes from the Port of Montevideo.
 
Why settle at an Industrial Park?
Because it accesses integral solutions that exceed the benefits that can be obtained outside an Industrial Park. For example: cost savings, since the Park provides services or common solutions for a group of companies. In addition to the shorter time in the installation process, because users can start to build or install immediately, with the basic services available. To these advantages are added security in obtaining the construction and operation permits; and, finally, the possibility of achieving economies of scale and other positive externalities together with other companies in the Park (such as cooperation, subcontracting, buying and selling among users, etc.)
 
What does PLR5 offer?
The users will have a modern infrastructure at their disposal, which includes electricity and lighting service, potable water supply and distribution system, internal road network, 24-7 Security (access control, perimeter fencing with CCTV and monitoring center ), system for fire control, sanitation with effluent treatment plant, maneuver and container beaches, Fiscal Area of 30,000 m², railway platform, office and services area, and common green areas.
 
View more at polologisticoruta5.com
Photo albums: flickr.com/photos/polologisticoruta5/albums
 
More information clicking here or Calling 095 572 720.