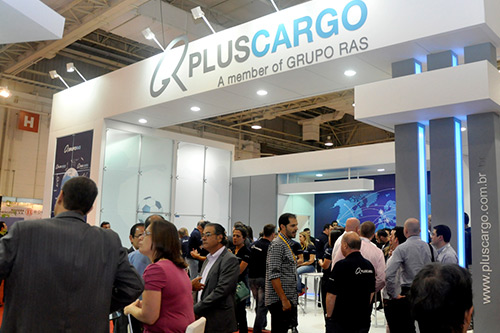 Intermodal San Pablo
GRUPO RAS Logistics Fair prestige to Uruguay in San Pablo.
"GRUPO RAS, logistics organization Uruguayan led by Ruben Azar Scarone own presence in six countries in South America and Mexico and expanded in this decade have several continents just participated in a flashy own Stand at the Intermodal Fair San Pablo Earl Together largest in the world with a strong and took his message loud internationally recognized professional standing. GRUPO RAS for 10 years has been on this show which results in a remarkable material efforts for a Uruguayan company, competing on equal terms with large multinational corporations. For three days were held high level technical conference, whose main focus was on the challenges of the logistics industry in the maritime, rail and road face. The topics addressed aspects of the supply chain, logistics road access and integration. It is correct when Ruben Azar says there is no business development without investment and attend the Fair with valuable and prominent stand at the level of the great, was it an investment that is good for the logistics industry of Uruguay, a weighty contribution of the sector private which puts us in the big showcase in the world. Surge through the interview with Azar, the RAS Group chaired clearly meets Uruguayan capital, grew arming engineering load distribution to neighboring countries taking advantage of the well-appreciated feature of Freeport, but the process took a quick clever plot off in the world. Asked how many people work for the RAS Group, our interviewee answers that are just over 800 people spread between Uruguay, Brazil, Argentina, Paraguay, Bolivia, Chile, Ecuador, Peru and Mexico.
One of the distinguishing features of GRUPO RAS is its ability to attract global companies shaft, to install their stocks in the port of Montevideo and thence proceed to their distribution among the major regional markets. Today there are branches in the main cities of Mercosur, in ten Brazilian cities, in 4 of Argentina, in Santa Cruz de la Sierra and La Paz, Asuncion and they should add an important development in the major cities of Mexico.
RAS Group has the Polo Port Logistics, the largest tank the Port of Montevideo, in the Zona Franca Logistics polo Polo and Logistics Resume add, under construction in Resume Tips.
Depart daily from these trucks and logistics centers maritime, river and air freight, reaching the regional markets. These processes involve centralized entire supply chain including transport, storage and customs operations control.
RAS Group is characterized by directly managing each of these links.